I haven't really been able to blog for the past month - first it was the holidays and then getting sick on Christmas Day and staying that way for the next 3 weeks straight certainly didn't help. I finally have felt human enough to start scrapping and blogging again!! Yay!! :)
I recently started working part time at my lss (love it SO very much!!) and I've also been doing some work for the design team there. Here is a layout that I recently made (yesterday) for the store using October Afternoon's Midway line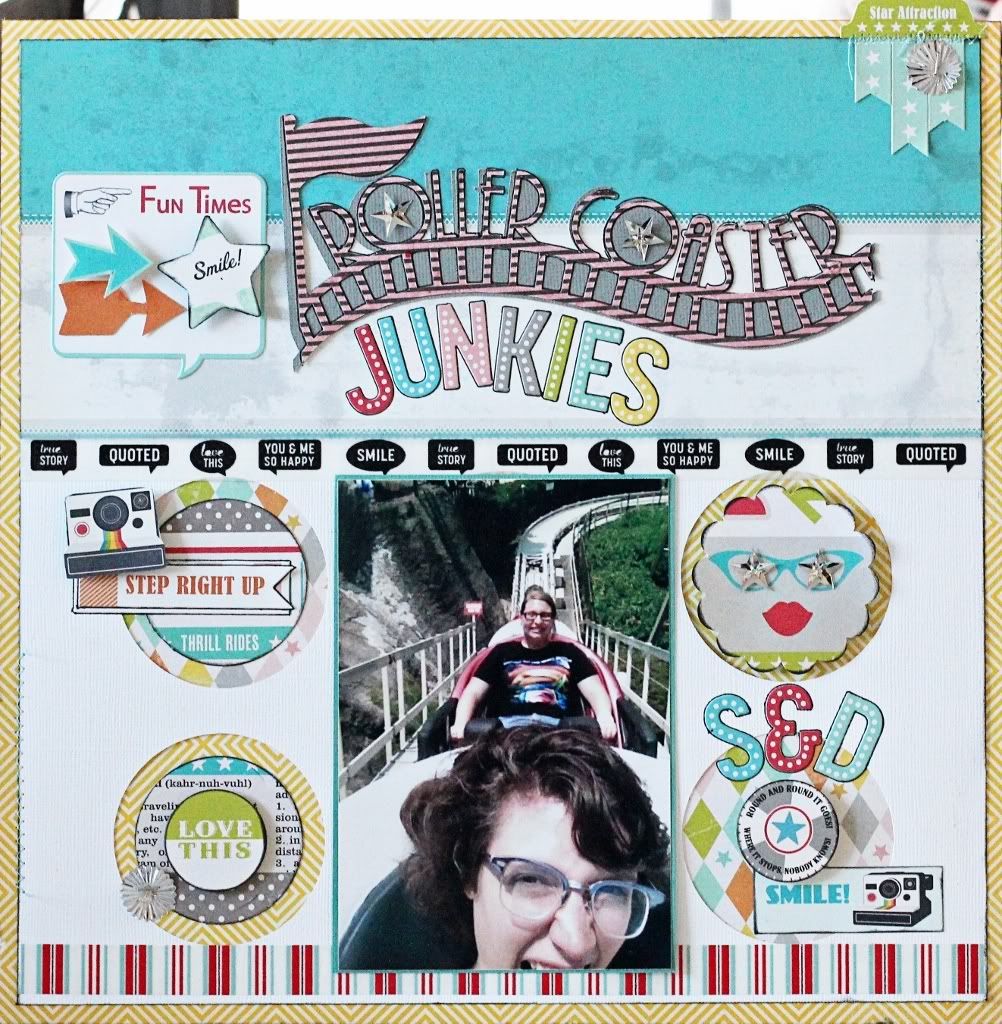 I've used this photo and the title cut before in a different layout, but I like making two layouts if there is more than one kid in the photo! That way later on when they have to divide them up they will each have a layout for themselves with their own photo on it!
Studio Calico is hosting a few challenges this week on their blog
here
(if you want to join in or check it out) and I have made some layouts for those
Not really feeling this first layout very much...I don't like all the patterned papers - it's just too busy for me - but that was one of the challenges so I just went for it and tried to stretch outside of my box some. LOL That's my daughter and Mom in the photo making some very weird faces - but it was funny! I diecut the title and the Polaroid frame with my Silhouette.
This is a photo that I took down on the coast of Mississippi while we were visiting during the Christmas break. The pelicans were all hunkered in for the winter and didn't even move when I got out to take photos! I did some stitching and stamping on the vellum and then layered lots of stuff on top of it!!
This is my favorite layout of my little great nephew Jeremy. We visited him during the Christmas break and he is just the cutest baby ever!! I made the title cut and stars on my Silhouette. I tried to use some of my white Mister Huey but I just had a few drops at the bottom of the bottle, so I took a paintbrush and painted with it in spots. I then stamped some images on top of it. There is some hidden journaling under the photo in a vellum envelope.
I did complete my December Daily for the most part - I need to print out one more photo for the back page. I ended up having to purchase another album (thank goodness I found someone that wanted to part with their exclusive Studio Calico December Daily album!!) so I have two completely fat and stuffed albums for my December Daily 2012. That's ok, I just can't scrap flat and I LOVE the way my pages turned out!! :) I'll finish getting them photographed and up on my blog soon!!
Thanks so much for stopping by and I hope you come back soon!! :)